About Us
Published by the National Autonomous University of Mexico, the most prestigious university in Mexico and Latin America, Voices of Mexico brings you interesting articles on topics ranging from Mexican politics, economic trends, and social and ecological issues, to our rich pre-Hispanic and colonial legacy, museums, contemporary art, and literature.
Published entirely in English three times a year, for 20 years it has been presenting our readers with information and analysis on topics of importance for our country: politics, socio-economic development, the environment, and our integration into the globalized world, with particular emphasis on relations with the other two countries of North America, the United States and Canada.
The articles are authored by academics and writers, experts in their fields. The magazine's full-color "Art and Culture" and "The Splendor of Mexico" sections boast quality images to illustrate the articles. Voices of Mexico is distributed in Mexico, the United States, and Canada.
Prizes
"I express my satisfaction at the fact that in 2009 Voices of Mexico has once again been awarded the prize by the National Chamber of the Publishing Industry (CANIEM) in the category of political and general information magazines. This distinction encourages and motivates us to continue making greater and greater efforts every day in our task of disseminating among the English-speaking public some of the most transcendental issues in Mexico and the region it is part of through the pens of many of our best voices."

Silvia Núñez-García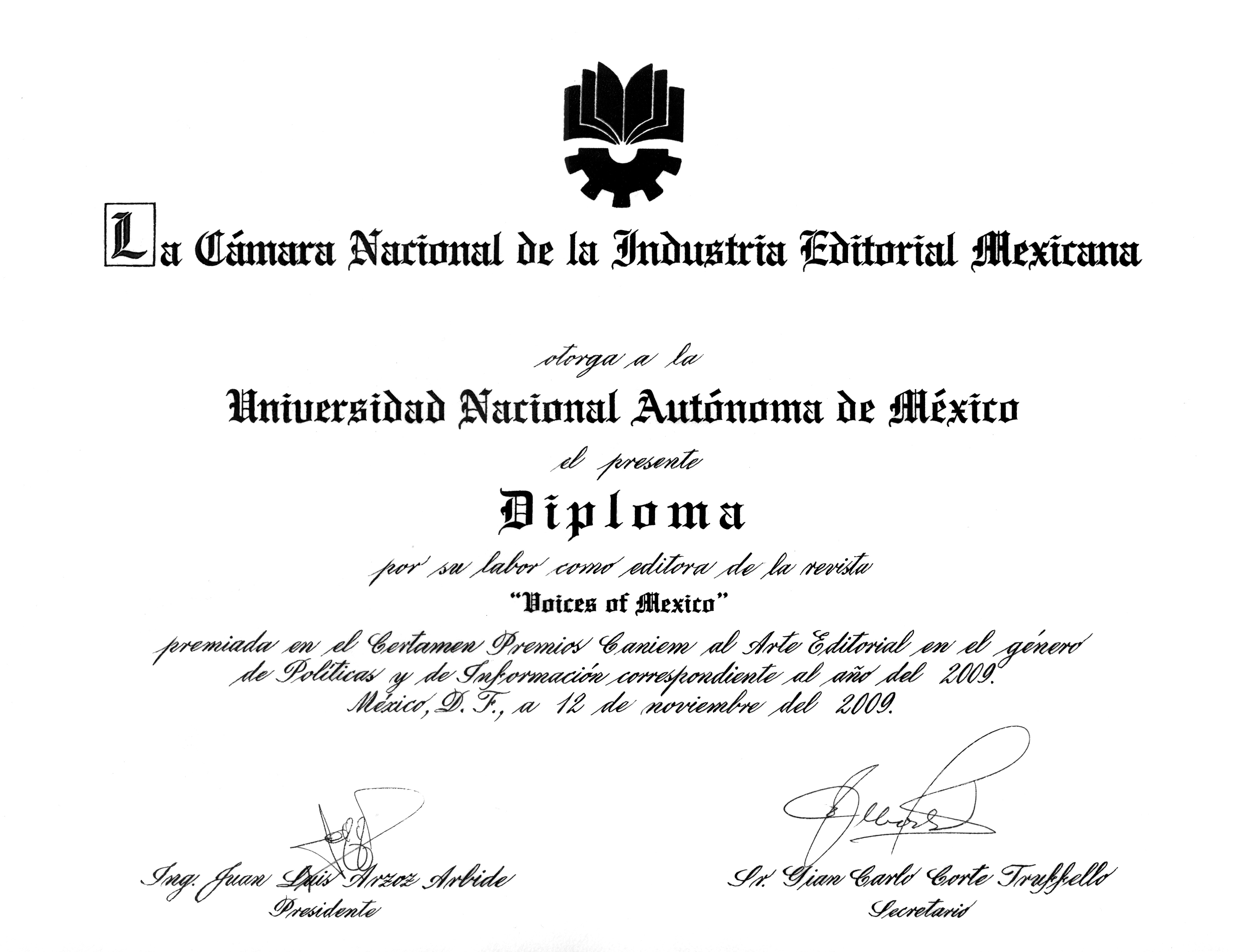 The Mexican National Chamber of the Publishing Industry confers this diploma on the National Autonomous University of Mexico for its work as the publisher of the magazine Voices of Mexico, awarded the Caniem Prize for Publishing in the category of Political and General Information for the year 2009. Mexico City, November 12, 2009.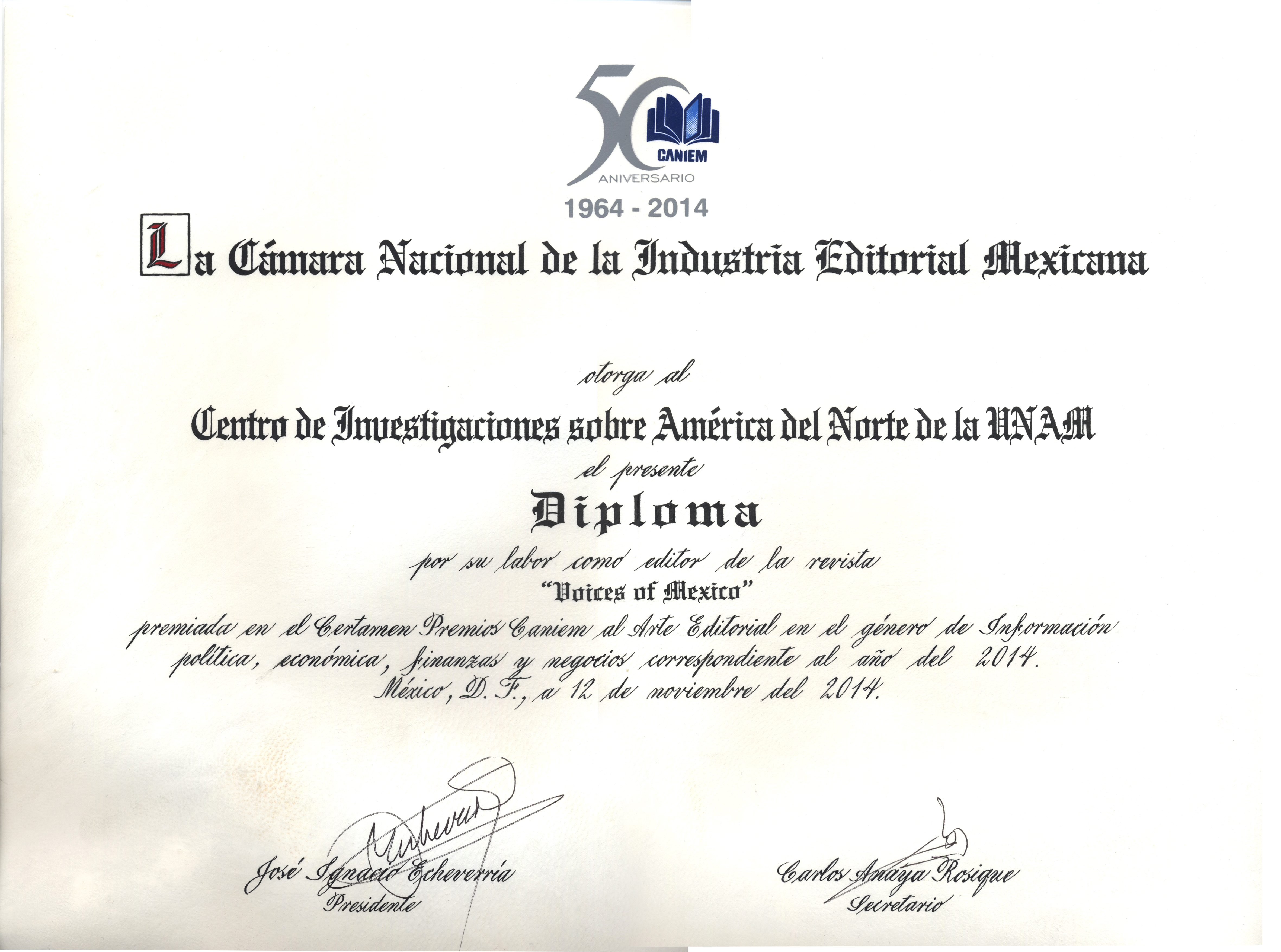 Director
Graciela Martínez-Zalce Sánchez

Coordinator of Publications
Astrid Velasco Montante

Editor-in-Chief
Teresa Jiménez Andreu

Circulation and Sales
Sury Sadahi Allende Flores

Art Director
Patricia Pérez Ramírez

Business Manager
Yaneli Bertoni Ruíz

Assistant to the Coordinator of Publications
Minerva Cruz Salas

Translator
Heather Dashner Monk

Translator for Art & Culture
María Cristina Fernández Hall

Webmaster
Esmeralda Martínez Montes


Rector UNAM
Enrique Graue Wiechers

Coordinator of Humanities
Guadalupe Valencia García

Director of the Center for Research on North America (CISAN)
Graciela Martínez-Zalce Sánchez



Sergio Aguayo, Carlos Alba Vega, Arturo Borja Tamayo, Jorge Bustamante, Jorge Carpizo, Fernando Rafael Castañeda Sabido, Lourdes N. Chehaibar Náder, Guadalupe González, Rosario Green, Roberto Gutiérrez López, Elizabeth Gutiérrez Romero, Julio Labastida, Miguel León-Portilla, Paz Consuelo Márquez Padilla, Alicia Mayer, Mario Melgar, William Merrill, Humberto Muñoz García, Ruperto Patiño Manffer, Olga Pellicer, Elena Poniatowska, Vicente Quirarte, Federico Reyes Heroles, Andrés Rozental, José Sarukhán, Mari Carmen Serra Puche, Fernando Solana, Rodolfo Stavenhagen, María Teresa Uriarte, Diego Valadés, José Luis Valdés-Ugalde, Ambrosio Velasco Gómez, Mónica Verea, Verónica Villarespe Reyes.