In this Issue of Voices of Mexico

Content

Our Voice

---
WOMEN

Minimal History of Gender
Studies in Mexico
Graciela Martínez-Zalce
At this point in the twenty-first century, I think no doubt remains that feminist movements and gender studies have changed both society and acade-mia. We have become aware that both sexual and gender differences have an impact on our lives and on social, political, economic, and cultural relations and processes and that, in general, women have had to fight to gain their free-doms and that the LGBTTI "minorities" have had to fight to make their situation visible and win space and rights.
---
The Diana Morán Workshop
An Exceptional Space for
Resistance and Sisterhood
Ana Rosa Domenella
Background
I begin these thoughts by attempting to create a histo-ry of a road travelled for almost four decades. In the wake of the discussions arising out of International Women's Year, celebrated in Mexico in 1975, three colleagues from the Colegio de México's Center for Literary Linguistic Studies Literature and Society Seminar, decid-ed to present a paper at the First Mexico-Central America Symposium on Women in 1977, organized by the colegio and the Ford Foundation.
---
Mexican Feminisms Today
Marta Lamas
The great variety in the political landscape of Mexican feminism is noticeable at a glance. However, despite the country's many feminisms and their different political positions, they all agree that the central axis of their protests is violence against women. In the 1970s and 1980s, feminicides were not known as they are now, nor were women's daily lives threatened by the terror of being kidnapped or disappeared or by the tension of being on the receiving end of different kinds of violence, as they are now. It was in the beginning of the 1990s when one of the most painful and scandalous tragedies to affect our lives became public knowledge: the murders in Ciudad Juárez of poor women, many of them adolescents who worked in the maquila plants. These crimes have continued to replicate nationwide and have given rise to the criminal category of "feminicide" and the term "youthicide."1 For Lucía Melgar, the term "feminicide" refers to all the murders of women for being women, which go unpunished and in which the state has a responsibility either through action or omission.
---
Mothers Who Search Under Ground
Maite Azuela
If there are voices that give Mexico the sounds of a tireless struggle, a tone of persistence, and a rhythm of a solidarity-based collective, they are the voices of the mothers of the disappeared, both men and women. This is not an identity that any nation wants, because it reveals the entire society's inability to contain the insecurity and violence that has affected most families. The pain anchored in uncertainty about the whereabouts of their daughters, sons, brothers, sisters, mothers, and fathers cuts even deeper when confronted with institutional negligence.
---
The Fight for Abortion in Mexico
Rebeca Ramos Duarte
"Starting now, it will not be possible
to try any woman for the issues considered
valid by this court without breaking the Court's criteria
and violating the Constitution.
Starting now, a new road of freedom begins,
a road of clarity, dignity, and respect
for all pregnant persons, especially women."
Chief Justice Arturo Zaldívar
The year that is coming to a close has brought enormous strides forward in Mexico for the regulation of abortion. To understand these advances, first it must be said that in most of Mexico, as in a large number of Latin American countries, abortion is a crime. As a result, women and gestating individuals who interrupt a pregnancy, as well as those who assist them, are subject to being declared criminals and punished with sentences that, in the case of Mexico, range from fifteen days to six years in prison, plus fines, community service, or medical or psychological treatment when freed. I mention "most of Mexico" because in this country, each state or federal jurisdiction determines whether abortion is a crime and what sanctions will be applied to those found guilty of it.
---
Whether Chance or Science,
Always Chasing Neurons
An Interview with Herminia Pasantes
Teresa Jiménez
Despite having begun her career in an era when being a woman scientist was almost impossible, Herminia Pasantes was able to take advantage of the opportunities and voids that presented themselves to be able to slip in among the men of science, using outstanding intelligence and an iron will, with a little help from chance —although she says that she owes it all to chance. She is one of the most highly renowned scientists in Mexico and abroad for her enormous contribution to the molecular study of the brain.
---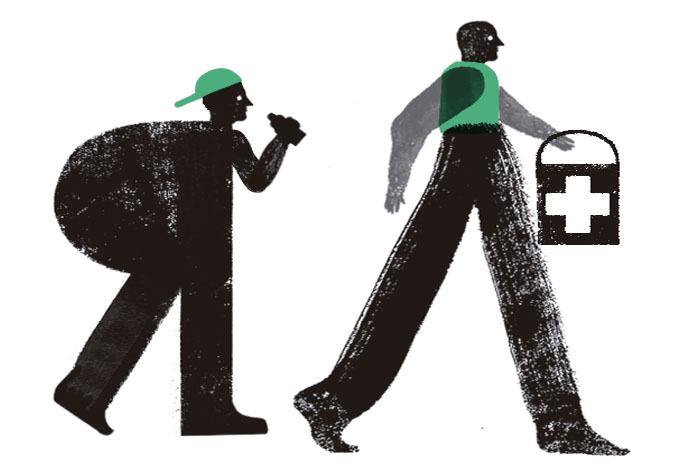 Raíces y Tránsito
Información para migrantes
---
Our Voice

WOMEN

Minimal History of Gender
Studies in Mexico
Graciela Martínez-Zalce
The Diana Morán Workshop
An Exceptional Space for
Resistance and Sisterhood
Ana Rosa Domenella
Mexican Feminisms Today
Marta Lamas
Mothers Who Search Under Ground
Maite Azuela
The Fight for Abortion in Mexico
Rebeca Ramos Duarte
Whether Chance or Science,
Always Chasing Neurons
An Interview with Herminia Pasantes
Teresa Jiménez

A Review of Aaraón Díaz's
Short Documentary
Migranta con M de Mamá
María Cristina Hall

The Inclusion
Of Feminist Art in Mexico
Margarita Martínez Rivera

Vindictas. An Interview with Socorro Venegas
Astrid Velasco
Wake up, my love!
The Lesbian Stories of Victoria
Enríquez and Elena Madrigal
María Elena Olivera Córdova
Artemisa On Line
Teresa Jiménez
Art and Culture
Self-portraits
Gretta Hernández
Voices of Mexico:
Two Women in Ancestral Song
Mariana Velasco and Gustavo Marcovich
Black Hen Powder: Feminism's
Beginnings in Mexican Art
Marifé Medrano Flor
Dissertation on the Origin of Sight
by Elisa Díaz Castelo
Illustrations by Armando Fonseca
Young Mother
by Maria Luisa Puga
Illustrations by Amanda Mijangos
Ana Segovia's Painting:
Feeling Uncomfortable in
The Categories We Inhabit
Christian Gómez
The Republic of Letters
Aline Meza Corona
Reviews
Minorías políticas en la agenda de Estados Unidos:
representación y agenda de cambio
by Estefanía Cruz Lera
Diego Bugeda Bernal
Directory
Director
Graciela Martínez-Zalce Sánchez
zalce@unam.mx
---
Coordinator of Publications
Astrid Velasco Montante
astridvm@unam.mx
Editor-in-Chief
Teresa Jiménez Andreu
tejian@unam.mx
About Us
Voices of Mexico is published by the Centro de Investigaciones sobre América del Norte, CISAN (Center for Research on North América) of the Universidad Nacional Autónoma de México UNAM (National Autonomous University of Mexico).
The magazine brings our readers information about different issues of general interest in Mexico, particularly regarding culture and the arts, the environment, and socio-economic development. It features critical articles and literature by Mexican authors in English and is distributed in Mexico, the United States, and Canada.
Contact
Address: Torre II de Humanidades, piso 9, Ciudad Universitaria, Coyoacán, 04510, México D.F.
Telephone: (52-55) 5623 0308
5623 02 81
Fax: (52-55) 5623 0308
Electronic mail: voicesmx@unam.mx