In this Issue of Voices of Mexico

Content

Our Voice

---
SHARED HISTORY

Mexico and the United States,
a Singular Bond
Interview with Marcela Terrazas
Teresa Jiménez
Teresa Jiménez: Why is the historical perspective important for studying the relationship between Mexico and the United States?
Marcela Terrazas: As a historian, I'm convinced that tracing what we have back to its origins is looking in depth at a circumstance, a problem, a possible solution. To start, I think that what makes the Mexico-U.S. relationship very particular is our proximity, and the other particularity, which is very obvious, is its asymmetry. We're talking about two countries with different kinds of wealth, different power, and a very unequal international presence. From the historical perspective, we can see that many things already existed . . . like, for example, we already had arms traffick-ing in the nineteenth century, as well as human smuggling. And we can trace the violence back even as far as to the eighteenth century. One of the fundamental questions is to see when the interaction, the conflicts, appeared. But we also have to look at the harmony, because I'm not a partisan of thinking about this relationship as though it's only problems. I think that to have a more well-consider-ed view, we have to see what makes the relationship between these two countries so enormous: the ability to cooperate. So, just as we can see the conflicts, we can also see the ability of the two societies — and also the governments — to have a constructive relationship. We have to see how this edifice that we now have has been built over the years. And for that to happen, bringing in other disciplines is also very enriching: bringing in law, sociology, the perspective of political analysts. But, it's very important to see it from the point of view of history to fully understand the link.
---
Roosevelt, Cárdenas, and the Good Neighbor Policy
Andreu Espasa
Franklin Delano Roosevelt is universally recognized as one of the great political figures of the twentieth century. His long tenure in the White House (1933-1945) coincided with two of the most decisive and turbulent episodes of contemporary history: the Great Depression and World War II. He emerged victorious in both cases. He not only defeated the worst crisis in the history of capitalism and the threat of international fascism, but by doing so, he simultaneously transformed the role of government intervention in the economy and that of Washington in the world. The rise of U.S. economic and geopolitical power in those decisive years is undisputable. However, during his first years in office, many would have had a difficult time predicting that outcome.
---
Mexico-United States:
To Cooperate or Not to Cooperate
José Luis Valdés-Ugalde
Joe Biden's administration priorities have been clearly established. On several strategic thematic fronts, it has shown — not without some difficulty — its determination to once again take up the multilateral issues that his country had put forward as central spaces for maintaining its preeminence in the world order. It has also aimed to generate momentum to ensure that multilateralist impetus not only allows it to achieve this goal, but also, for example, to put strategic doctrine objectives of its international policy on the agenda.
---
The Bicentennial of Mexico-U.S. Relations
Leonardo Curzio
For some reason, anniversaries make human beings think differently. The bicentennial of relations between Mexico and the United States offers an opportunity not only to celebrate —something that Ambassador Ken Salazar has announced for December 2022—, but also to reassess this historical process on three levels. The first is how we see the United States and what we have learned from it in these two centuries. The second is how they see us and what we have learned from the Mexican-U.S. narrative about Mexico's reality. The third is how bilateral relations have changed.
---
U.S.-Mexico Relations
Interdependence and Paradiplomacy
Roberto Zepeda
The economic integration of Mexico and the United States has facilitated other forms of cooperation among subnational actors. Subnational governmental actors' international activities, also known as paradiplomacy, constitute forms of governance in North America around various issues that range from free trade to climate change and international cooperation in science, technology, and education.
---
A Brief Review of Mexico-U.S. Relations
Paz Consuelo Márquez-Padilla
In my 2014 book on international justice, I propose a heuristic model for understanding when countries cooperate with each other and when, on the contrary, they enter into conflict. They cooperate when they approach the conditions established in the model, and their relations become tense when they move away from those conditions, which are necessary for coming to agreements acceptable to all parties, and therefore fair in the framework of a minimum, shared conception of justice. Differences of power among nations are assumed to exist internationally as well as the fact that joint decisions will not always be completely equally beneficial. This is because the most powerful state can easily impose its will on the weaker state. However, at times, governments will seek to come to an agreement acceptable to both parties after a rational negotiation in which, even if the stronger country gets more of what it wants, the weaker country will accept it because it will also benefit proportionately.
---
Is Mexico Better Off with a Donkey
Or an Elephant in the White House?
Estefanía Cruz Lera
The study of U.S. foreign policy includes something called the "partisan gap." Basically, this means that each of the political parties is associated with specific strategies and issues on the international stage; in addition, the party that occupies the White House is the one that moves the pieces around on the international chessboard. In line with this logic, the Republican Party's foreign policy strategy is unilateralist, aggressive, and coercive. The Democratic Party, for its part, implements a multilateral, less militarist, more cooperative policy. On these issues, the Democrats are more interested in fighting climate change, and the Republicans, more concerned with putting an end to international terrorism. Foreign governments and international public opinion are not immune to this partisan gap.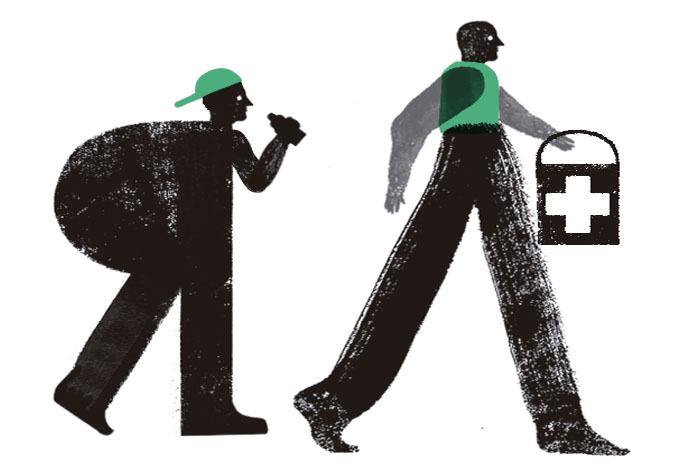 Raíces y Tránsito
Información para migrantes
---
Our Voice

SHARED HISTORY

Mexico and the United States,
a Singular Bond
Interview with Marcela Terrazas
Teresa Jiménez
Roosevelt, Cárdenas, and the
Good Neighbor Policy
Andreu Espasa
Mexico-United States:
To Cooperate or Not to Cooperate
José Luis Valdés-Ugalde
The Bicentennial of Mexico-U.S. Relations
Leonardo Curzio
U.S.-Mexico Relations
Interdependence and Paradiplomacy
Roberto Zepeda
A Brief Review of Mexico-U.S. Relations
Paz Consuelo Márquez-Padilla

Is Mexico Better Off with a Donkey
Or an Elephant in the White House?
Estefanía Cruz Lera
Biden's "De-Trumpization" of Migration Policy:
The López Obrador Response
Mónica Verea

Notes to Bolster a Future with
More Women in Mexico-U.S. Relations
Silvia Núñez García
Mexico and the United States Security:
Historic and Current Dilemmas
Raúl Benítez Manaut
Two Fossil Fuel Producers in the
Face of Climate Change: Mexico
and the United States
Edit Antal
Two Centuries of History
Mexico-U.S. Bilateral Relations
Bryan Alan Hernández Aguilar
Cultural Relations Imbalances
Due to Disparity in Sociopolitical
Realities
Francisco Peredo Castro
"South of the Border (Down Mexico Way)"
The Musical Comings and Goings
Between Mexico and the United States
Julia E. Palacios Franco
Mexican Migration to the United States:
Belonging, Identities, and Uprootedness
A Literary Perspective
Mariana Flores
The Different Origins of the Press and of
Published Political Discussion in Mexico
and the United States
Juan Carlos Barrón Pastor
Art and Culture
North
A Fortnight in the Wilderness
by Zazil Alaíde Collins
Relative by María Cristina Hall
Illustrations by Xanic Galván
There and Back
Interview with Tatiana Parcero
Gina Bechelany Fajer
Logan Ryland Dandridge
All My Gods Are Black
Jaime Soler Frost
Reviews
Embajadores de Estados Unidos en México
Diplomacia de crisis y oportunidades
by Roberta Lajous, Erika Pani, Paolo Riguzzi,
and María Celia Toro, comps.
Ana Luna

Directory
Director
Graciela Martínez-Zalce Sánchez
zalce@unam.mx
---
Coordinator of Publications
Astrid Velasco Montante
astridvm@unam.mx
Editor-in-Chief
Teresa Jiménez Andreu
tejian@unam.mx
About Us
Voices of Mexico is published by the Centro de Investigaciones sobre América del Norte, CISAN (Center for Research on North América) of the Universidad Nacional Autónoma de México UNAM (National Autonomous University of Mexico).
The magazine brings our readers information about different issues of general interest in Mexico, particularly regarding culture and the arts, the environment, and socio-economic development. It features critical articles and literature by Mexican authors in English and is distributed in Mexico, the United States, and Canada.
Contact
Address: Torre II de Humanidades, piso 9, Ciudad Universitaria, Coyoacán, 04510, México D.F.
Telephone: (52-55) 5623 0308
5623 02 81
Fax: (52-55) 5623 0308
Electronic mail: voicesmx@unam.mx